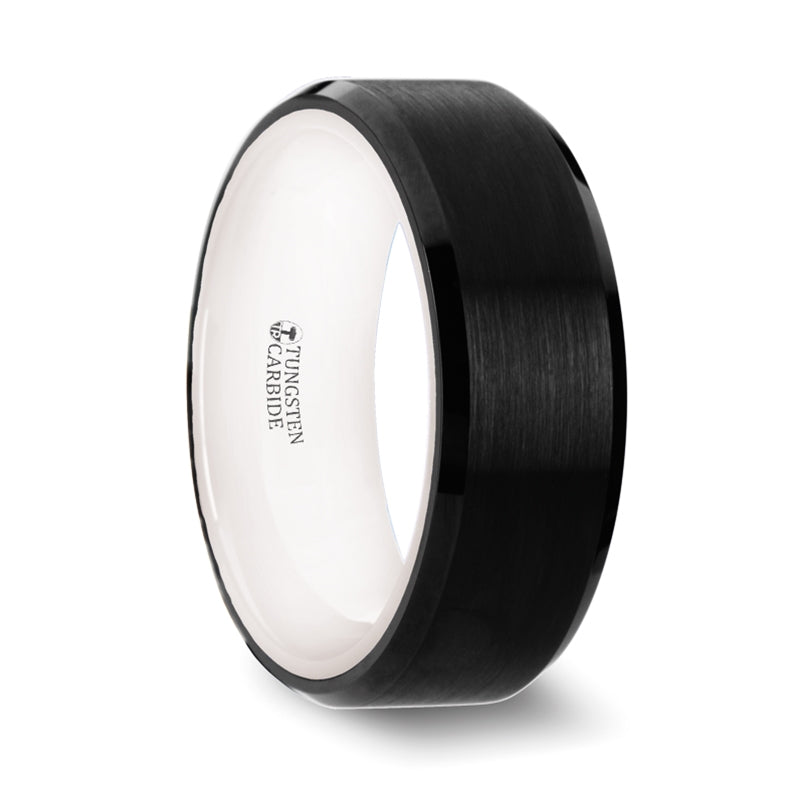 Description
Black Tungsten Brushed Center Men's Wedding Band with Polished Beveled Edges & White Interior

Item # TBW1396-WIBT
Frequently Asked Questions
What jewelry style do I want to buy?
The first thing to do is to decide whether you are buying a ring, bracelet, pendant, necklace or a pair of earrings. Whether it is going to be a solitaire, two stone, three stone piece, a diamond or a colored gemstone jewelry, its design and metal are few of the many factors that need to be considered.
Can I customize jewelry online?
Yes. We offer a full customization of most of the engagement rings we sell, from simple customization like switching out a center stone, to a more complete customization like taking two ring styles and combining them. We try to offer customization options and you can make the most out of them to design the perfect piece at the perfect price.
How long does a custom jewelry piece take to create?
A lot can depend on how complicated the design is, but rule of thumb is from start to finish is 3-4 weeks, but more complex customizations can take up to 6+ weeks. However, it is possible to complete a project much sooner than this. If you are interested in a custom jewelry project and have a shorter time frame we encourage you to get in contact with us today!
Want to Return or Exchange Something?
If for any reason you are not satisfied, we will gladly accept items for refund or exchange within 30 days of purchase. All refunds will be issued to the original form of payment. All returns must be unworn and in sale-able condition. Returned merchandise should include all packaging. Please note used merchandise will not be accepted for refund or exchange unless defective.
Shipping Information
Shipped Directly To Your Door
At Tidewater Diamond, we strive to not only help you find the piece or pieces that you love at an affordable price, but we strive to get your orders out quickly. Most orders ship out within 24-48 hours 7 days a week from our physical location based out of Virginia.
Order Tracking
All orders placed online or in-store from our Virginia location have full tracking through our shipping partners not only to make sure that your order makes it to you safe and sound, but that it shows up when you need it.
Have Questions For Our Team?
Have questions about the piece or pieces that you're purchasing online? Interested in visiting our physical store to check things out for yourself before purchasing? Have questions or want more information? Contact the team at Tidewater Diamond today and we'd be glad to help.
Shopping For Your Special Day Has Never Been Easier
Tidewater Diamond
With owners and staff boasting over 100 years of combined fine jewelry experience, Tidewater Diamond has the expertise and insight to guide you to the perfect piece of jewelry.  We understand that everyone has a different idea of their perfect jewelry.  Let us help you enjoy the journey and create special unique memories commemorated by the perfect piece of fine jewelry.

Locally owned and operated in Chesapeake, Virginia, Tidewater Diamond serves customers locally and online. Whether it's in person or online, we take pride in listening to each client's personal preferences and needs.

Our Chesapeake showroom and our online store offer an extensive collection of engagement rings, one-of-a-kind antique and vintage pieces, custom jewelry design and manufacturing, pre-owned Rolex watches, gold and silver fine jewelry, loose diamonds, gemstones, and more.  Additionally, our Chesapeake location houses a certified goldsmith allowing us to provide in-house jewelry repair without your jewelry ever leaving our location.
The Romance Engagement Collection
Romance Engagement Rings
Our rings are manufactured in our own state of the art facility- ensuring the quality of each meticulous, highly detailed design.  From the initial sketches from our designers, we create the ring utilizing the latest scientific methods in CAD and CAM processes. Our team follows through with incredible attention to detail and exacting standards, so we can deliver a true piece of art. From our metals to our diamonds, the quality is unmistakable. Romance utilizes our own special RomanceWhite™ gold alloy, which offers the pristine whiteness of platinum without the high cost. This advanced white metal can easily be finished and is not as brittle as other white metal alloys for lasting brightness and durability.
As members of the Responsible Jewellery Council, Romance strives to observe the highest ethical standards. We insist our business partners do the same. The issue of responsible mining is very important to our industry and to the world. We work to ensure that our precious metals come from suppliers that meet the highest human rights, social, and environmental criteria.